In 2015, I read 55 books, an increase of 7 over 2014. Sixty percent of the books were e-books, twenty-two percent were printed books and nineteen percent were audio books. I continue to read more e-books than printed books because of both convenience and cost. I read 35 works of fiction, 18 non-fiction books and 2 poetry collections.
Here are the sixteen best books I read in 2015.
16. I Can See Clearly Now by Wayne Dyer
I had the op
portunity to hear Wayne Dyer speak in person about 20 years ago. I was a member of the Michigan chapter of the National Speakers Association. The speaker before him was very high energy and kept the audience engaged for 3 hours. The chapter presented an award to Dyer for what he had accomplished in life. He spoke for 30 minutes following 3 hours of high energy. When he first came on stage, I thought we were in trouble. We had been there all day and Dyer spoke very softly in contrast to the previous speaker. But he had us listening
to his every word within less than a minute. There was a peaceful gentleness about him that just captured our attention.
I have since listened to Dyer on CD multiple times. When he recently passed on to the next world, I started to read his memoir and it is an amazing book. It is not your typical memoir. He organizes the book around key intellectual, philosophical and spiritual events in his life. After writing about the event, he tells what the event means to him looking back on it all these years later. He connects the key dots in his life and we begin to understand the intellectual underpinning of his books.
You will not find a lot of personal stories about his wives and children. He only hints at what happened between his first wife and him. The closest he comes to sharing his pain is in the chapter where his second wife leaves him for another man and he spends two years in deep depression.
The book is inspirational and full of spiritual connections. Near the end of his life he gave up his home and the things he owned in Florida and walked away. I highly recommend this book to anyone who has read any of Wayne Dyer's books or heard his CDs or seen his PBS programs. The man communicates on a very deep spiritual level.
15. Girls Like Us: Carole King, Joni Mitchell, Carly Simon — and the Journey of a Generation by Sheila Weller
Sheila Weller is an amazing storyteller who has done her homework. A lot of research has gone into this book which is about the lives of a generation of women as seen through the lives of 3 female singers of the era. I knew much of the Carole King story having read her memoir and listened to her music. I knew a lot less of Joni Mitchell and Carly Simon. Weller fills her book with details of the lives of the three women but also the people who joi
ned them on their journey. I would recommend the book to anyone who grew up listening to Carole, Joni and Carly as well as anyone interested in the music of the era and the lives of the artists.
14. Nick Virgilio: A Life in Haiku by Nicholas A. Vir
gilio
I first read the haiku of Nick Virgilio in haiku magazines in the 1980s. I also read his haiku in the
The Haiku Anthology
edited by Cor Van Den Heuvel. This is the first collection of his haiku that I have read. One of my favorite haiku by Virgilio is:
the sack of kittens
sinking in the icy creek
increases the cold
Farmers sometimes kill litters of baby kittens because there are too many cats on the farm. In this haiku, we see the farmer standing by the creek watching the sack sink into the icy water. He is not happy that he has to kill the kittens, but he knows it is for the best so they don't starve to death. Yet he is uncomfortable and maybe even thinking of his own death. It is winter and there is snow on the fields. The farmer has some time on his hands. The harvest is over and spring is still weeks away. Watching the kittens die, the farmer feels a shiver through his body.
In the world of haiku, Nick Virgilio is known for the haiku he wrote about his brother who died in Vietnam. This is one of my favorites:
deep in rank grass,
through a bullet- riddled helmet:
an unknown flower
Here the poet walking through a war-torn countryside comes upon a soldier's helmet and is surprised to see a flower popping through the holes in the helmet. Even in death, there is life. Just as the owner of the helmet is unknown to the poet so is the flower. And yet that is okay. We can not know everything. No matter how violent life is, we can always find some beauty.
In one of the essays in the book, Virgilio compares himself to the Japanese haiku poet, Buson, in that like Buson he composes him poems. For him it is not based simply on an experienced moment. He would write and rewrite the haiku until he was satisfied. The helmet poem above was inspired a photograph he saw in a newspaper in 1967. The last line came to him during a conversation he was having with a friend.
In an interview published in the book, Virgilio discusses a haiku he created to communicate receiving the news of his brother's death.
telegram in hand,
shadow of the marine
darkens our screen door
In these eleven short words, Virgilio captures the essence of the moment. The poet is focused on the small things: the shadow and the screen door. He may even be in denial. He is staying at the edges of the truth. And yet he knows the truth is there: his brother is dead. He doesn't want to face it head on.
I highly recommend this book of haiku poetry by one of America's best haiku poets to all poets and lovers of poetry.
13. Yogi Berra: Eternal Yankee by Allen Barra
I was inspired by
Allen Barra's book on Willie Mays and Mickey Mantle to read this one on Yogi Berra. As a St. Louis Cardinal fan, I never had much interest in the NY Yankees, but I found this biography of Yogi to be fascinating. Yogi's career was coming to an end when I became interested in baseball as a child. Unlike many athlete heroes, Yogi appears to have few personal flaws. Growing up in an Italian neighborhood of St. Louis, he hoped to play for the Cardinals, but when he was offered only a $250 sign on bonus he refused because it was less than the $500 paid to his friend, Joe Garagiola. Yogi was the inspiration for the cartoon character, Yogi Bear. I recommend this book to baseball fans, Yankee fans and Yogi fans.
12. Sidetracked by Henning Mankell
I last read a Henning Mankell novel back in 2011, but I felt like I was coming home when I read this novel. I enjoy being in the company of Kurt Wallander. He is a bit of a depressive, but he is tenacious. This novel finds him on the trail of an axe murderer. This is a great read that I would recommend to all who enjoy mysteries.
11. The Kizuna Coast by Sujata Massey
The Kizuna Coast is another excellent Rei Shimura mystery. This one is set in Japan right after the earthquake and tsunami in 2011. I was first introduced to the character of Rei in 2014 when I read The Flowe
r Master
. I appreciated seeing the aftermath of tsunami through the eyes of a novelist. Of the 4 Shimura mysteries that I have read, this is easily my favorite. I highly recommend it to all readers of novels, not just mystery lovers.
10. Brush Back by Sara Paretsky
This is my eleventh V.I. Warshawski novel and it has been a couple of years since I read my last one. Reading the book wa
s like visiting an old friend and catching up on what has happened to her in recent years. At the age of fifty, Warshawski continues to stir the pot and get herself beaten up. But in the end, she comes out on top, although, not always wiser. I enjoy the novels not so much for the plot a
s the voice and character of V.I. She is a great character.
I highly recommend this book and the series to lovers of mysteries and strong women P.I.s.
9. De
ath of a Doll Maker by I. J. Parker
I am addicted to the Sugawara Akitada historical mystery series set in 11th century Japan. I have read 8 of the novels including 5 this year. I.J. Parker is skilled at telling stories where Akitada not only solves mysteries but also has to cope with the challenges and pain of living. T
he book is a great read, but I recommend reading early books in the series first.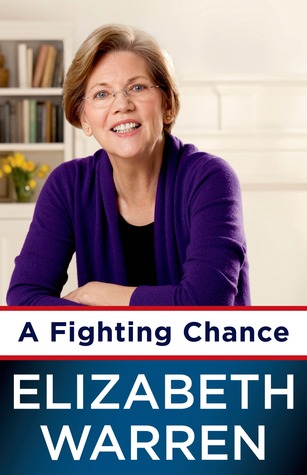 8. A Fighting Chance by Elizabeth Warren
I knew very little about Elizabeth Warren prior to reading the book and I walked away impressed. Warren shares the story of her 10 year battle with big banks on the behalf of
middle class working people and how she lost. Warren is a law professor and bankruptcy expert turned activist and politician. Mixed in with discussion of her fight with the banks is Warren's personal story of being born in Oklahoma and her struggle to obtain a college degree. She tells the story of her marriage and divorce and re-marriage. She talks of giving birth and raising her children and becoming a grandmother. She also tells the story of her senate race to fill the seat of Ted Kennedy after he died.
I recommend the book to anyone who likes to read political memoirs or who is interested in bankruptcy and the banking industry and consumer protection. I also recommend listening to the book rather than reading it so you can hear the passion and concern in her voice since s
he recorded the book herself.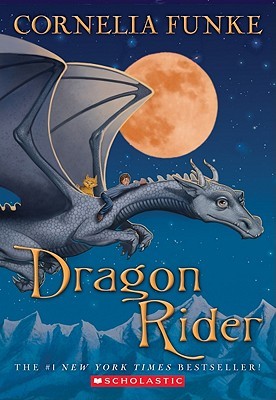 7. Dragon Rider by Cornelia Funke
I read this excellent book with my seven-year-old daughter. I started reading it to her. Then she wanted to read it to me. Then we traded back and forth. She would read two pages and then I would read two pages. Excellent adventure story involving a silver dragon, a brownie, a boy and other characters. Funke does a great job of weaving a story and drawing the reader in. I would recommend this both for adults and children.
6. Ripper by Isabel Allende
Contrary to some negative revie
ws that I have read, I feel
Ripper
by Isabel Allende is a fantastic novel. Allende tells the story in a circular manner which seems to bother some people but it is story telling at its finest. The story keeps circling around the characters and slowly expands the world the story inhabits. This style of storytelling is not normally seen in mystery novels. I first discovered the s
tyle when I read the novels of John Irving who wrote one of my favorite novels,
A Prayer for Owen Meany
. It took me several attempts before I actually read
A Prayer...
and the same may hold true for people who attempt to read
Ripper
.
This is the third novel that I have read in the last 2 years that was written in the circular storytelling style. In 2014, I read Saving Fish From Drowning by Amy Tan and in 2013, See Now Then by Jamaica Kincaid. All three books received negative criticism for repetition which means the reviewers did not understand the style of storytelling. Circular storytelling, which can be very poetic in the right hands, builds the story through repetition and slowly draws the listener in.
Sometimes it is better to listen to circular storytelling than reading it on the page so I recommend that potential readers consider the audio version. I wager you will like it better.
5. Life Itself by Roger Ebert
I must confess that Roger Ebert was not my favorite movie critic. I preferred Gene Siskel. But this memoir has changed
my opinion about Ebert. Roger Ebert was raised in Urbana, Illinois in the 1940's and 50's. I lived in Champaign-Urbana from 1975 -1982 so I was familiar with some of the things he talks about. Even though Roger's mother wanted him to be a priest, his passion was journalism. He did not set out to be a movie critic, but spent most of his life discussing movies in print and on television.
Late in life, cancer and 3 surgeries destroyed Ebert's ability to speak and eat. He turned to writing his life story. What amazed me is how much he remembers. He says that he has always had a good memory, but not being able to engage in conversation with others opened up the flood gates and the memories poured through.
I found the book entertaining, funny with touching moments where Roger shares of himself. I would recommend it to anyone who loves memoirs, journalism or the movies. He does not tell his story in a straight forward fashion but skips around much as memory does — jumping back and forth in time. I would have enjoyed having a conversation with Roger while sitting down to dinner.
4. Hard Choices by Hillary Clinton
Hard Choices is full of stories of Clinton's time as Secretary of State and the people she met. I was fascinated and intrigued as I read it. She tells stories of both failures of diplomacy and successes. She provides insight into many of the key players on the international scene and some historical context to current events.
If you are interested in international politics, you should read this book with an open mind. While you may not agree with Clinton's conclusions, you will have a better understanding of who Hillary Clinton is and the challenges the United States faces on the world
stage.
I also have walked away with the belief that people who run for President should have spent time as Secretary of State. Presidents have less influence on the internal affairs of the country than they do on the international scene. Congress has greater control and influence on the American society than any one President. Congress makes the laws and determines the direction of the country. Decisions made in Congress are with us for generations. Presidents can twist arms, but in the end, their influence is short-lived. Presidents can do more on the world stage than they can at home. Unfortunately, most candidates for President have very little experience on the international stage and waste much of their time in office learning how the world works. If Presidents spent time as secretary of state before running for President, they would have a greater opportunity to influence world events.
I would recommend this book to anyone interested in international politics or in understanding what makes Hillary Rodham Clinton tick. I also would recommend that you listen to the audio version of the book. While Clinton read the opening and closing chapters of the book, she did not read the entire book. Kathleen Chalfant did an excellent job of reading most of the book. Though, I would have preferred to have Hillary's voice all the way through.
3. No Higher Honor by Condoleezza Rice
After listening to the audio book by Hillary Clinton on her experience as Secretary of State, I decided to follow it with No Higher Honor by Condoleezza Rice, her predecessor. The books are in many ways very similar both in the telling and in the stories being told.
Rice tells a very powerful story about her 8 years of experience in the Bush Administration as the National Security Advisor and the Secretary of State. She was introduced to George W. by his father whom she had served under during his administration. Rice consistently defends the George W. and his decisions. His administration was deeply influenced by the 9/11 attacks on New York and Washington, D.C. She discusses the fear that permeated the administration in the months and years that followed the attacks. The way the Administration saw the world was colored by that fear. While Rice admits making mistakes in her positions, she does not voice any negative feelings toward George W. She is less positive about Dick Cheney and Don Rumsfeld with whom she experienced major disagreements, although one has to read between the lines to gain a sense of the conflict.
Rice grew up in the segregated Birmingham, Alabama. She tells the story of how one of her kindergarten friends was killed during the 1963 church bombing in Birmingham.
One of my favorite anecdotes was during a trip to Rome for the funeral of the pope. She was sitting between George W. and Bill Clinton. She said Bill talked all the time and George did not talk. The story, I believe, is very telling about the differences between the two men.
Rice did her own recording of the audio book so one hears the story in her voice. I would highly recommend the book to anyone interested in politics, history and the international world. The book offers more of the story than one finds in the newspapers and on television. And I would also recommend that one reads it in conjunction with Hillary Clinton's book on her experiences. Hillary opens her book with the letter she received from Condoleezza.
The Making of The President 1960 earned the author, Theodore H. White, a Pulitzer Prize in 1962. In the book, White, a journalist, follows the candidates from the moment they made the decision to enter the race for the Presidency until Kennedy was elected.
In the 1970's I had read White's The Making of the President 1968, the third of 4 books in the series. I was impressed with book when I read so decided with being on the doorstep of the 1916 election that I would read the original book in the series.
The book is as relevant and important today as it was in 1960. White has the reporter's knack of capturing the detail that makes the story exciting even 55 years after the event. Many of the issues that he identifies in the 1960 campaign are still relevant today. He also has a strong sense of history and is able to put the events of the time in historical context.
White touches on the fact that the peaceful transfer of power from one person to the next is unusual in the annals of history. White writes:
"Heroes and philosophers, brave men and vile, have since Rome and Athens tried to make this manner of transfer of power work effectively; no people have succeeded at it better, or over a longer period of time, than the Americans."
The Democrats seeking the nomination of their party in 1960 included Senator Hubert Humphrey of Minnesota, Senator Stuart Symington of Missouri, Senator Lyndon B. Johnson of Texas, former Illinois governor Adlai Stevenson II and Senator John F. Kennedy of Massachusetts. The Republicans seeking the nomination of their party in 1960 were Governor Nelson Rockefeller of New York and Vice-President Richard M. Nixon.
White is excellent at summing up a situation in a very simple image. After Humphrey had lost the primary in West Virginia which ended his campaign, White writes: "In the morning, when Humbert Humphrey woke, the Presidential image had evaporated. Outside the Ruffner Hotel his parked bus had overnight been given a ticket for illegal parking."
Lyndon Johnson, like some politicians today, was seen as being too close to the workings of Washington. Johnson's weakness was that he believed that the Senate was America and that he was the Senate. In a very relevant passage even today, White writes: "Long service in Washington at the court of power decisions causes men to forget that power rises ultimately from beyond the Potomac."
Here is one of White's descriptions of Kennedy: "He had mastered politics on so many different levels that no other contemporary American could match him. He had nursed ward politics with his mother's milk; heard it from his grandfathers, politicians both, in boyhood; seen it practiced from his father's embassy in London at the supreme level of world events in 1939, as war and peace hung in the balance."
White fills his book with telling details. He writes: "At almost any moment of afternoon and evening on the road, soup is the favorite Kennedy dish — almost any kind of soup: chicken soup, tomato soup, bean soup and his favorite New England clam chowder."
White reviews in detail the impact of the changing demographics on the politics of the time. Between 1950 and 1960, the population of the country grew by 18%. Forty-one million Americans were born during the period and 16 million died. Two-thirds of the growth had occurred in the suburbs.
White also discusses immigration which statistically began being counted in 1819 as required by Congress. White writes, "In 1820 America held 9,638,000 people, of whom almost 20 per cent were Negroes; and the rest are considered to have been the parent 'colonial stock' of America — an overwhelmingly British stock, spiced lightly with adventurers from all northern Europe."
Over 40 million immigrants entered the country between 1820 and 1960. The Irish came first. Between 1847 and 1854, over one million Irish entered the country. Almost 900 thousand Germans came between 1850 and 1857 and they kept coming in waves. By 1960 people with German heritage had become the second largest component of the American population. The Scandinavians arrived in the late 1800s. In the early part of the 20th century, more than 3 million Italians arrived.
White also writes about the issue of religion. He reminds us that many of the early settlers came to escape the religious wars of Europe. The memories of how they were punished in Europe for their religious beliefs led to the decision that government had no right to make inquiry into the faith of its citizens and that the state should not have any connection to religion. People were free to worship as they pleased without guidance from the government.
I think every American would benefit from the reading and rereading of this book. White is a great storyteller who helps us understand how politics work and how Presidents are elected to serve the people.
1. The Cider House Rules by John Irving
This is another brilliant novel by Irving, one of American's finest novelists. I saw the movie based on the novel about 15 years ago. I remember little of the movie except for Michael Caine who played Dr. Larch. Irving is a phenomenal storyteller who tells his stories in a circular fashion. Each circle reveals more of the story. Detail after detail is slowly revealed.
The story is about abandonment — about orphans and abortions and about unwanted children. Dr. Larch has spent a lifetime doing what he calls: "God's work." He delivers unwanted babies, raises them in the orphanage until he can find a home for them. He also provides abortions to women who are early enough in their pregnancies. At the heart of the story is Homer Wells for whom Dr. Larch could never find a home. Larch teaches him how to deliver babies. Homer ventures out into the world and his life becomes entangles with the lives of Candy and Wally. This is a novel that everyone should read.